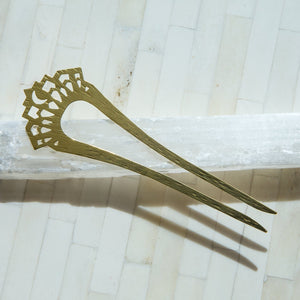 You are invited to adorn the crown in mystical arrangement.
Nikki Jacoby's combs begin as 75 percent recycled sheet brass, then are machine-cut and hand-hammered, giving each one an individual touch.  Brass brings out natural good and inner truth, as well as giving courage. What better object to adorn yourself.
The Heirloom Comb and Hair Stick Collections began as a collaboration between soul sisters Nikki Jacoby, a Jeweler and Roxie Jane Hunt, a Holistic Hair Stylist. They wanted to design a product that easily pins up hair with timeless style. They have become a favorite of many and we are sure you will love yours as well. Please visit out Tutorial section for our favorite ways to wear and style the combs
The Surya Hair Comb measures 6 inches in length by 2 inches in width
This comb is available in two lengths, 5 inch and 6 inch. We designed the option with an extra inch on the teeth for long or thick and textured hair to give it extra hold.