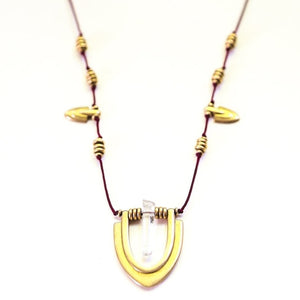 >>>  All items are made to order and ship in 3-4 weeks<<<
The Visionary  Hanging in a protective force field of metal is a cleared quartz crystal and an invitation to charge it with the intention that you desire to carry with you and bring in to the world.

Necklaces are offered in brass and sterling silver on either red or black nylon cord.  
Pendant and accent charms designed by Nikki Jacoby and cast in NYC out of 100% recycled metals. Necklace hangs on nylon cord and fastenes with an adjustable slip knot. Quartz crystals are sourced from the Coleman mine in Arkansas.